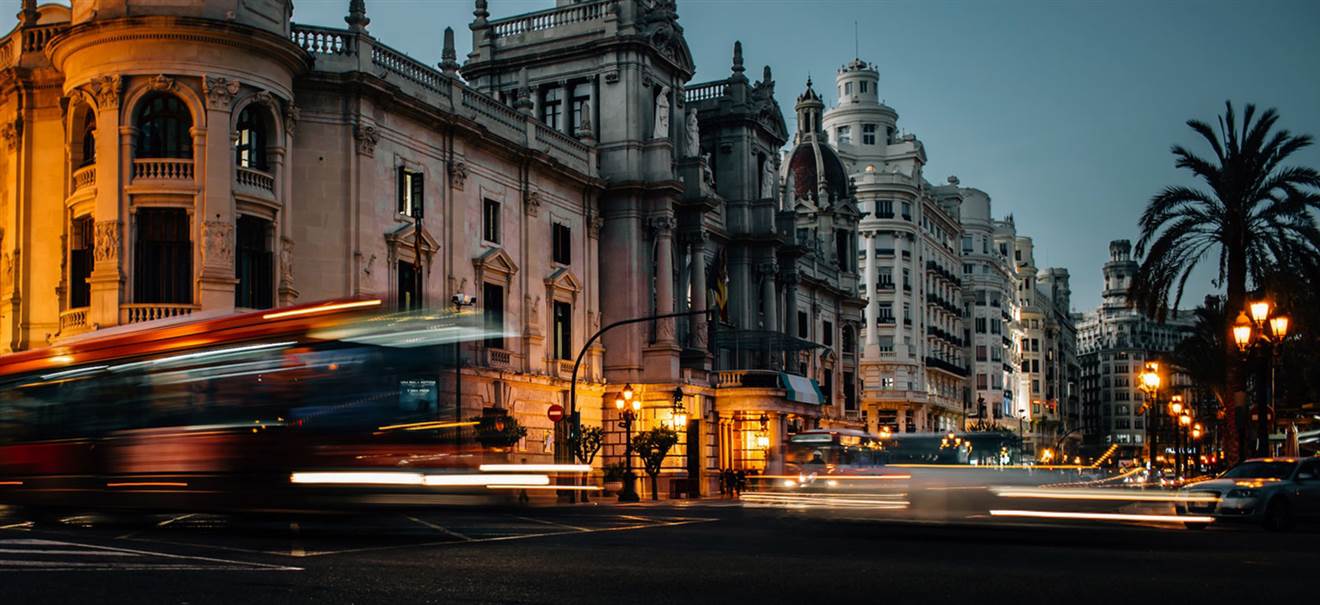 Valencia Hop on Hop off Bus
To product
Discover the historic Valencia, as well as the architectonic and the seafaring side of Valencia!
A rich cultural heritage, with its age-old traditions, cuisine, sea life, past and present. Have a great time in the city. Hop on and off as many times as you want!
What`s included?
Unlimited trips on board the Valencia Bus Turístic tourist bus.
Double-decker open-top buses around Valencia.
2 tourist routes included.
19 stops at places of interest.
2 connection points between the two routes.
Audio guide available in 10 languages, from which 8 can be heard simultaneously.
The ticket includes the trips and compulsory travel insurance. Admission to museums are not included.
How does it work?
Simply print the voucher sent to your email address after purchasing and redeem it at any Valencia tour bus, showing proof of ID as well. You must show it to the personnel whenever you board the bus. All the trips are included!
Valencia bus turistic
Valencia tour buses run every day of the year except December 25 and January 1.
September - June: 9:50 a.m. to 8:50 p.m. July and August: 9:50 a.m. - 10 p.m. Each route takes 90 minutes. Its frequency is every 45 minutes in autumn and winter and every 30 minutes in spring and summer.
Historic Valencia Route
1 - Plaza de la Reina, 8 - 2. IVAM, Guillem de Castro, 118 - 3. San Pío V nº 9 - 4. Nuevo Centro, Avenida Menéndez Pidal, next to El Corte Inglés - 5. Palacio de Congresos, Camp de Turia, next to Hotel Hilton - 6. Dama Ibérica, La Safor, next to MediaMarkt - 7. Bioparc, Avda. Pío Baroja, 3 - 8. Valencia Hisotry Museum, Paseo de la Petxina, 77 - 9. AVE, opposite Joaquín Sorolla station.
Valencia Sea Route
1. Plaza de la Reina, 8. - 2. Plaza de Toros, Calle Xátiva corner with Ruzafa. - 3. Fallas Museum, Pa Monteolivete - 4. City of Arts and Sciences, Profesor López Piñero - 5. Oceanogràfic, Camino de las Moreras - 6. Centro Comercial Aqua, Menorca, next to Centro Comercial - 7. Marina Real, next to Veles e Vents - 8. Las Arenas, Eugenia Viñez, 22 opposite Hotel Las Arenas - 9. Puerto, Joan Verdeguer corner Avda. Manuel Soto - 10. Baleares, Avda. Baleares, corner Eduardo Boscá, between Rey Don Jaime and Holiday hotels. (Stop n. 11 coming soon between Mestalla and the 'Museo Histórico Militar' - Paseo de la Alameda, 24).
Dates
Valencia's Bus Turistic runs every day, all year round, except the 25th of December and 1st of January.
Times 
September to June: 9.50am – 8.50pm. 
July and August: 9.50am – 10pm.
Duration
The approx. duration of the tour is 90 minutes.
Languages
Spanish, Valencian, English, French, German, Italian, Russian, Portuguese, Japanese and Chinese.